Saving money for your house deposit
Everyone buying a home for the first time needs to come up with a house deposit. Saving for your house deposit can take some time and dedication, but so does any major goal you want to achieve. Buying your first home is no different.

Saving for your first home will come with a target cash percentage you need to come up with yourself before your mortgage lender to cough up the house loan. Your house deposit plays a big part in how much you can borrow, how much you will need to repay and ultimately be your gateway into home ownership. In this guide, we will share tried and tested money saving techniques that will help you save money for your house deposit.
How much is a house deposit?
To start you need to know how much you need to save for your deposit. The average first-time buyer coughs up 20% of the total cost of their desired house as a deposit, this means for a £100,000 house you could be looking at up to a £20,000 deposit for your first home. You can find mortgages for a smaller deposit percentage but the better deals are found in the 20-25% range.

You can also go the 'help to buy' rout which will mean you may only have to come up with 5% of the total cost of the house up front, and a chunk of the deposit will be topped up by government loans. Don't worry though, it sounds daunting but saving for a house deposit just takes time and a well thought out plan of action. After all, thousands of people manage it every year and you can too.
Manage your budget wisely
Once you have calculated how much you need for your house deposit, the next step is to figure out how long it will take you with your current savings power. It is important you list all of your outgoings and their real costs to give you an accurate time scale for saving the deposit.

If you are already saving money that's great! If you are not at the moment you will need to budget your cash differently to allow for saving for the long term.
Lower your overheads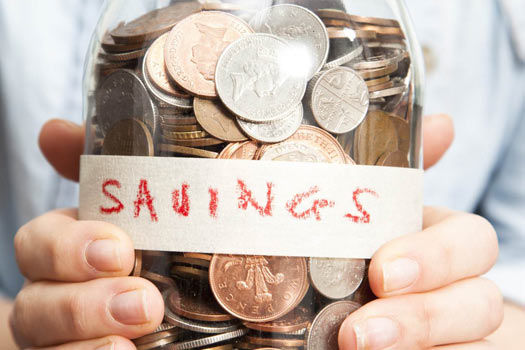 A way people speed up the saving process of saving up for a house is lowering their overheads. There are many ways you can lower your living costs and it's one of the quickest ways to save quicker and reach your goal.
Lower your rent.
In the UK, the highest outgoing by far is housing costs. If you can lower your rent you can immediately lower your overheads, sometimes by quite a lot. We have met many people who are saving even quicker by going back to live with their parent's. Moving back to your family home would normally be the most efficient way of saving for your deposit and can sometimes speed it up by years. If this is not an option for you, you could always get yourself a lodger to share the cost of renting.
Lower your food bill.
It may sound trivial, but if you add up your average food spend including eating out, takeaways, weekly shopping and luxuries you may be surprised how much you actually spend. I get it, we all enjoy eating out, but you can normally buy a weeks food shopping for the cost of one meal in a restaurant. Get yourself in the kitchen and start cooking some good homemade recipes and watch your savings grow. You could also take your own healthy lunch to work rather than spending £5,00 a day for a prepacked sandwich from the closest store. You can also find plenty of fake-away recipes that will fill your void for a takeaway.
Lower your transport costs.
Let's face it driving is still a luxury in the UK, anything to do with cars are expensive, insurance, fuel, services and repairs all add up. If you own a vehicle think about ways you can use it less. If you are in a real rush to save your deposit you can always consider selling your car all together while you save for it. Bicycling, carpooling and public transport are some great ways to reduce your transport costs.
Cut your cable.
Oh no! Yes, I said it. Cut your cable bill. Entertainment in the home can be expensive. Your expensive TV entertainment package could be burning a hole in your pocket and slowing your goals down. The same goes for online streaming services, if you can do without these things for a while you can sometimes save over £100 per month.
Free days out.
Take advantage of free events, festivals and fun days out in your area rather than expensive attractions that end up slowing down your saving goal. It's nice to splurge on experiences but there are many great things you can do for free. You could go to the beach, go walking, visit the library, take up hiking, go for a picnic, get involved with community sports, go to community events and many other things for absolutely free. This can speed up your deposit saving power ten-fold.

When you combine all of these money saving tips, you can sometimes cut your bills by hundreds and even thousands a month by making changes to your living arrangements. All the small things add up, and if you cut your monthly overheads by even £400 a month that is £4800 per year. Add this with your regular savings it does help out a lot.
Get help with deposit
Many people struggle with finding the spare cash for a house deposit. If you are fortunate enough to receive a helping hand with funding by a close family member you could seize the opportunity to do so. Be wary though, make sure you and the family member helping you with the house deposit are both aware of if the deposit is a gift, is to be repaid as a lot of family feuds stem from money.
Where to save your deposit
Now where to save this influx of cash savings? There are many places you can save your money to help keep ahead of inflation and even grow your savings more. You want to know how long you are going to be saving for before you lock yourself into any saving accounts or ISA's.
Short term savings
If you are going to saving for a short period, say one year you will want to look at putting your savings into a regular savings account or an easy access savings account which won't give you great interest rates, some of the best deals paying only 1.5% but will be better than your regular current account. You also want to check your terms and conditions of your chosen account to make sure you won't be hit with costs to take your money out once it's time to purchase your new home.

Medium and long term savings
If you are going to be saving for your house deposit for more than a few years like many other homeowners you have a few better options when it comes to saving money in the bank.

You can take advantage of a cash individual savings account (ISA) which pays more interest per year and pays it tax-free which is great. It also has a savings limit which at the time of writing is £20,000. You can choose between a fixed rate or variable rate ISA's it's completely up to you.
Other costs other than house deposit.
When you are buying your home there are other costs involved that many people do not consider. You want to make sure you can pay for services such as a solicitor, arrangement fee, broker fee, property searches. These charges can add up, sometimes they can be added to your mortgage, you can ask your mortgage broker what they can include.

Also, you may require a removal company to carry out your house move. If you are planning a move in the North East of England. We can provide affordable removal services to anywhere in the UK. You can learn the cost of moving home by reading our moving costs post.

Good luck with your goals, it can take some time to save a house deposit but with a little dedication we are sure you can achieve your savings goals and eventually get yourself on the property ladder.