Choosing the best removal company in your area.
When looking for the best house removal company in your area for your specifications and to handle your removal there are many things to take into account. Good removal companies work ethic and service is critical, you want to know if the moving company is reputable, affordable, professional and has your interests as the core of their business.
A good removal company will be a member of a trade association have a landline telephone number, a registered business address in case you need to contact them and provide quality removal services at a competitive price that are designed to make moving your house safely and as stress-free as possible. Below is what a great removal company does and how you should expect your movers to carry out the best house removal possible.
Home Survey / Removal Assessment
Assess the property – your home surveyor will assess your property for access problems, the volume of goods, goods that need to be dismantled and assembled, special requirements and more to ensure everything is taken into account before the day of your move.
Answers any questions – During the home survey you are free to ask any questions about the removal company, their insurance details, what will happen in the day and any other moving questions you may have. They will answer any questions to the best of their ability and anything they're not sure on they will get back to you with answers.
Provide a detailed quotation – after your home assessment and getting to know your removal requirements. You will be given your house removal quotation either on the day of the home assessment or via email after the assessment is complete.
Advice And Support
After your home assessment and quotation being accepted, a great removal company will be there to support you from the first time you contact them, until the completion of your move. There are many reasons you may need to contact your removal company during the moving process.

Delays and hold-ups to your exchange day are common, your home removal company needs to know of any delays with your chain to allow them to plan accordingly. Maybe you have run out of packing materials or finding it difficult to pack your own home and now require your removal companies packing service.

If your move has major problems you may need to gain advice on contents storage from your removal company. They will be more than happy to help you through the process of moving house up to the day your team turn up.

Moving Day
When your moving day finally arrives, your removal company will arrive at your property at an agreed time. Your removal team will arrive for introductions in uniform and ready to commence your removal. They will be briefed on your move and requirements but will also ask to be shown around on the day to get an accurate brief from yourself.

Preparation – your team can lay floor coverings on the inside of the property, sweep or lay rubber mats to the outside or the premises to minimise any dirt getting inside the home. (extra charges may apply)
Furniture Wrap – furniture with drawers, doors, or furniture with a fragile nature will be wrapped in a furniture protection plastic wrap or padded sheets before removal to minimise risks of moving your belongings.
Free Packaging – your team will place your mattresses in padded mattress bags, your clothes into wardrobe boxes and photos and mirrors into padded secure picture/mirror bags for ease and safety of moving. (To make sure this is provided ask in your home assessment.)
Disconnect and dismantle – after your furniture is protected and ready for removal your team will disconnect any white goods and dismantle any large furniture that will not fit out of the property.
(To make sure this is provided ask in your home assessment.)
Removal of goods – your team are equipped with everything to remove your goods effortlessly. You will be surprised at the speed and skill of your removal company removing your goods and loading them into the vehicles.
Loading the vehicles – your furniture will be packed to an excellent standard using care and attention throughout, furniture will be wrapped in a heavy-duty padded blanket and none load bearing boxes and furniture will be placed high rather than low to stop any breakages.
Moving into your new home – same as when your removal team turned up, they will ask for a tour and description of what each room is and where your furniture will be going. They will lay floor covering to protect carpets and begin the delivery. (extra charges may apply)
Unloading the vehicle – unloading the vehicle is quick, your removal company will unload the vehicle to the same high standards as loading. After the delivery is complete your team will ask you if anything needs moving to a different location.
Unpacking – your team will unpack all of the furniture when it is in it final destination, this includes removing plastic films, mattress bags, wardrobe boxes, and floor coverings and leave you with furniture and belongings in perfect condition
Removal Payment – if you have not already paid for your removal service, one of the team will provide you with a detailed invoice and costings and will take payment at the end of the move. They can accept cash, debit cards, credit cards, bank transfer.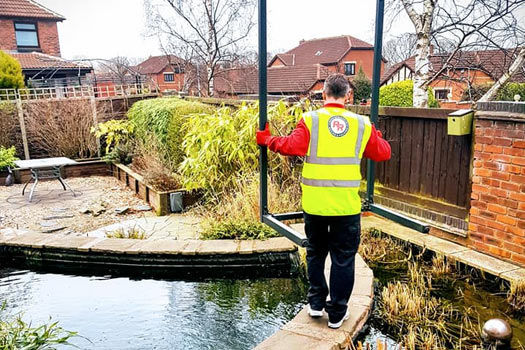 Who's The Best Removal Company In My Area
When choosing the best house removal company your area, remember to take their entire service into account.
Quality of there removal service, moving price and read reviews to make sure they are a reputable removal company, are all important factors to consider. A good removal company is worth their weight in gold!
If you are moving home and looking for a removal company in the North East. Reds Removals can provide you with a quality house removal service that ticks all the right boxes at a competitive price.
We cover the whole of the Northeast. You can take advantage of our whole removal service in Middlesbrough, Stockton-on-Tees, Darlington, Hartlepool, Durham and North Yorkshire.