How Reds Removals protect your furniture during a house removal.
When you're moving home, the main question that you may ask is how is my furniture protected during the house removal process? At Reds Removals, we use purpose-made quilts, bags, covers and more to protect your belongings when moving.
We stock a wide variety of protective equipment and we provide this on every move we carry out free of charge, during your house removal. This includes effective protection of items such as but not limited to Sofas, Mattresses, White Goods, Pianos, Dining Tables, Bicycles, TV's and Antique Furniture.
If there are any specific items you would like us to protect don't hesitate to ask during your initial contact or when the crew are carrying out your home move, we have the means to protect any belongings or furniture you are moving.
What we use to protect your belongings during the move
As stated Reds Removals stock a wide range of protective equipment designed specifically for house removals and furniture. From the blankets we cover your furniture with to the specialised fitted bags and cases we protect it all when required or requested by our clients.
Everything mentioned in this post is what we provide as standard on ever home move, however, we can provide other packing services and equipment if requested in your initial enquiries.
The furniture protection equipment we provide was a large investment to give our clients the best removal service possible and to be more Eco-friendly in an industry that uses large quantities of single-use plastic. We have managed to eradicate a vast majority of plastic use introducing these items.
Quilted Mattress Bags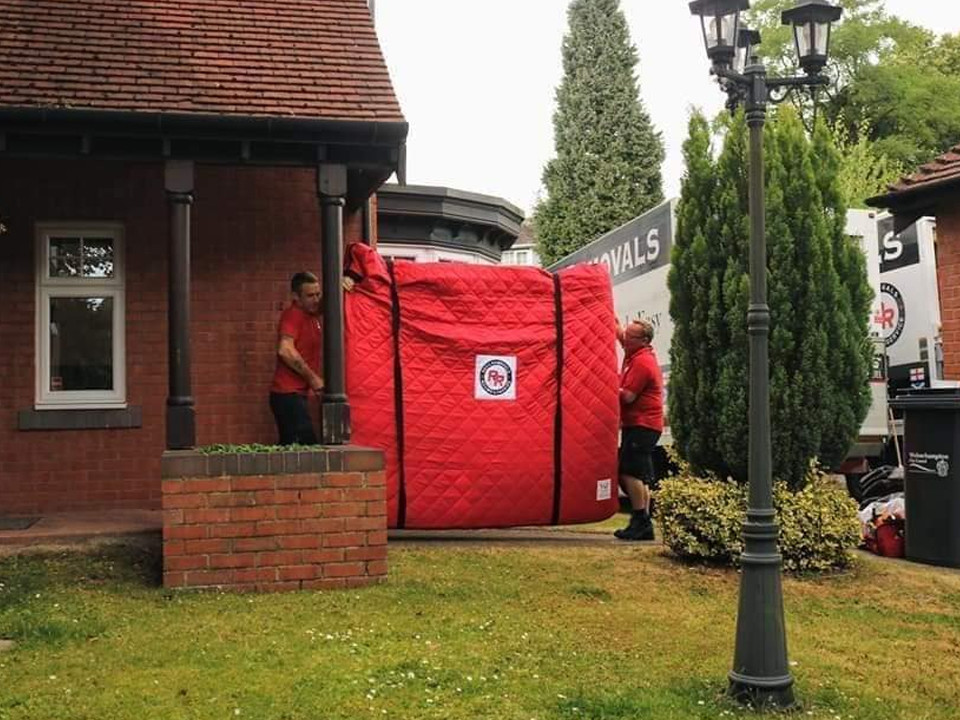 At Reds Removals, we provide our specialised quilted mattress bags free of charge during your house move, we stock them in all sizes from Single to super king size.
They make the moving mattresses easy with their built-in carrying handles and offer maximum protection to your mattresses, stopping them getting dirty or damaged during your house removal.
Picture & Mirror Bags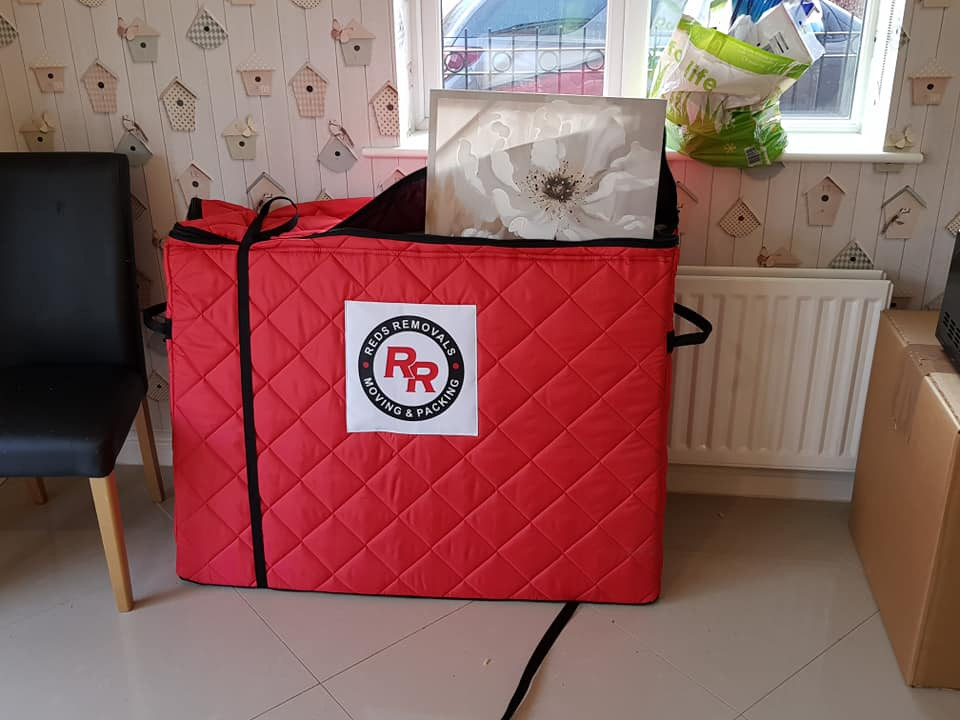 Once upon a time during a house removal, pictures and mirrors would need to be hand-wrapped using bubble wrap and other packaging. Reds Removals now offer quilted and padded hard case bags, we simply place your mirrors and pictures in the separation sleeves inside the picture bag. This saves a vast amount of time preparing photos and mirrors during your house move.
Wardrobe Clothing Boxes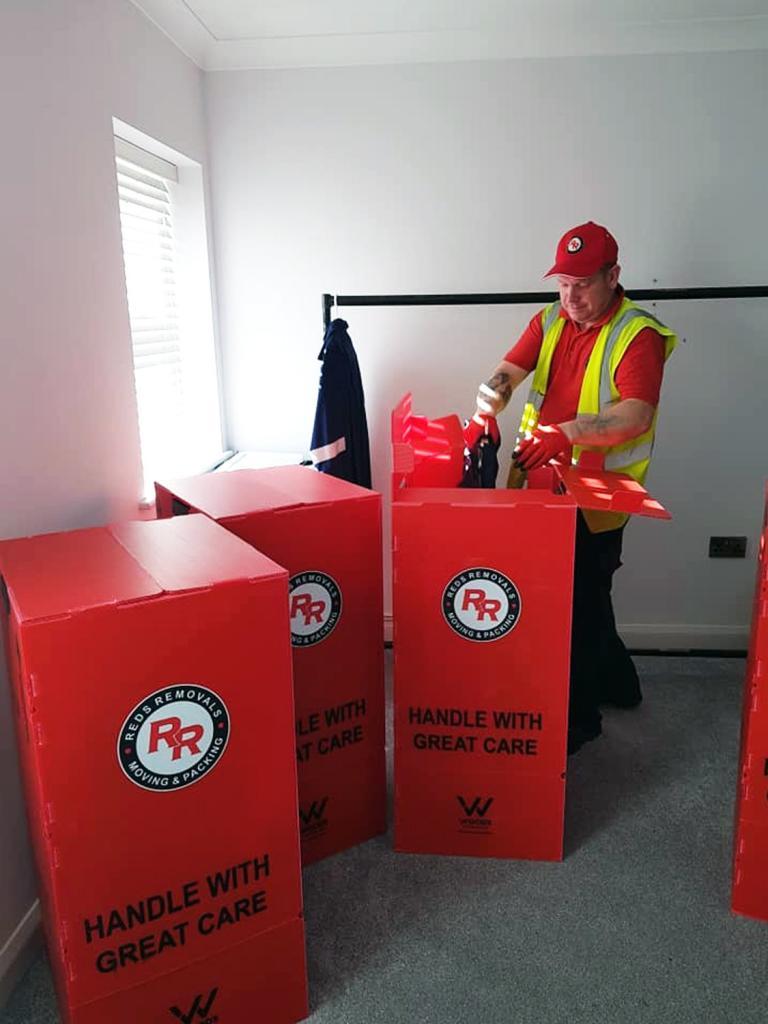 Say goodbye to creased clothing after your house move is completed, Reds hang your clothing in our reusable wardrobe cartons for maximum protection. Wardrobe boxes are often a pretty expensive packing material. Reds Removals also provide these free during your house move.
Quilted Furniture Covers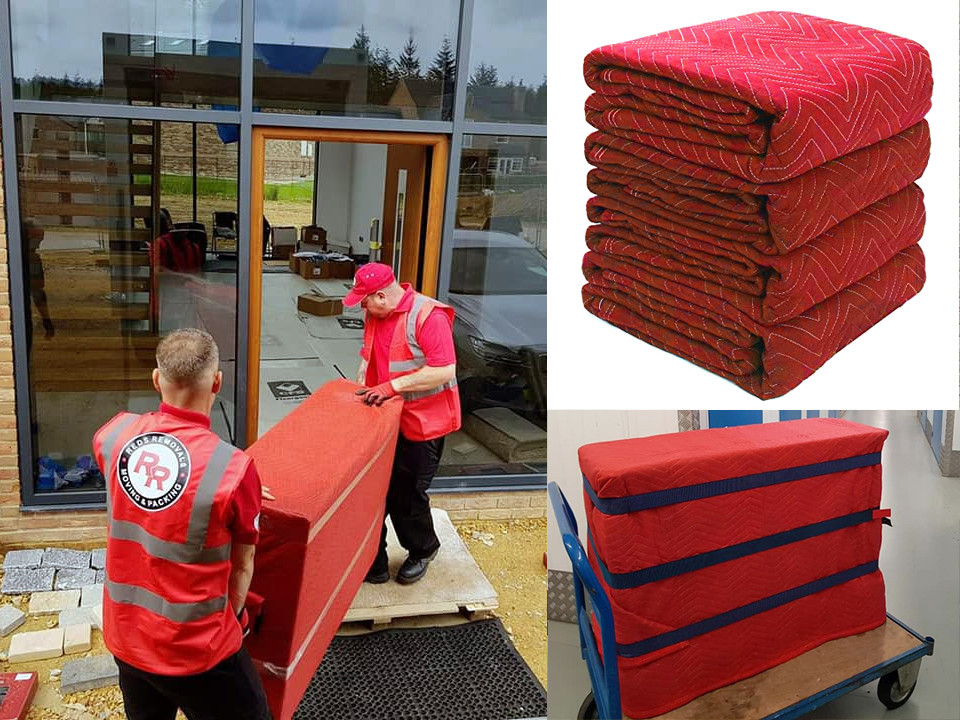 Our prestige quilted furniture covers are some of the best performing protective covers used by removal companies, They are much thicker than the industry standard and are versatile enough to wrap almost any piece of furniture, keeping it in tip-top shape!
Reds Removals blanket wrap many pieces of furniture during house removal. Sometimes we will do this inside the home using our elastic furniture bands, if a piece is removed from the home without being blanket wrapped don't worry, this will be done onboard the vehicle.
Our quilted blankets for furniture can also be used to protect TV's, pianos, white-goods, drawers, antique etc. We will also use these to quickly pack ornaments and other fragile items that have not been packed by the customer before move day.
Protecting Your Home During The Move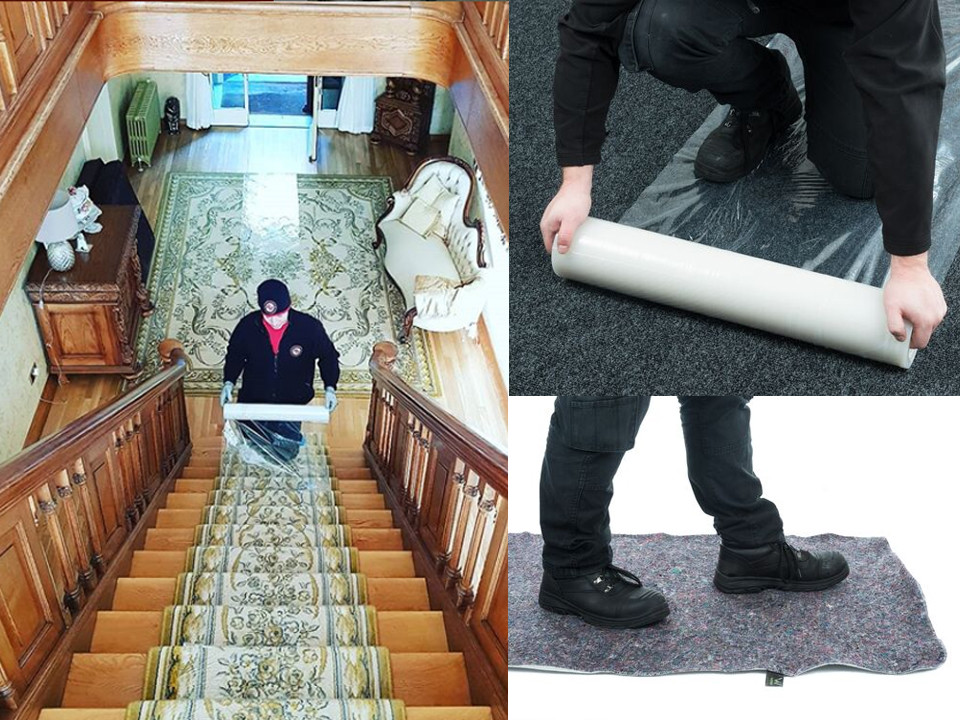 Protecting your home during the house move is also very important, we do this a few ways depending on the situation and requests from you the client. First of all, we will clean the entranceway to the home if needed by sweeping debris from your access rout and lay outside rubber mats across any dirt we may end up walking in.
We will then lay 7ft hallway mats down at the main entrance if this is not suitable enough we will install plastic floor coverings that stick to your carpets.
If access is tight we may protect your doors, bannisters, door frames and more. Together this provides maximum protection to the home during the move. If you have any questions or requests regarding protecting your home further don't hesitate to ask. We are happy to accommodate all requests.
Disposable Furniture Protection
Sometimes your moving requirements mean we will be unable to provide our reusable furniture protection options during your removal. That doesn't mean you go without, we can still protect your belongings using disposable versions such as plastic mattress covers, plastic sofa bags, cardboard wardrobe cartons. We also sell recycled furniture blankets for customers who may need to go into storage that is not provided by us.
If you are planning a home move and would like to know more about how Reds Removals can help you during your house Removal, please don't hesitate to ask. We are more than happy to help!